Books & CD's…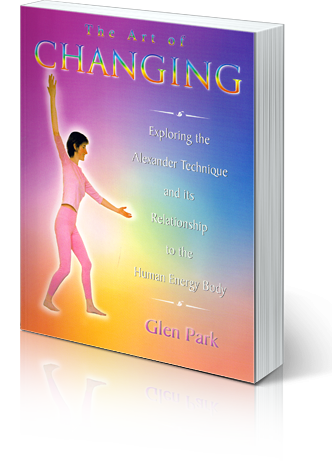 The Art of Changing by Glen Park
Ashgrove Publishing 1989⁄2000 ISBN 1-85398-130-3
The Art of Changing has established a fine reputation twice over as one of the very best introductions to the Alexander Technique and as a unique exploration into applying the principles of the Alexander Technique to psychological and energetic patterns of behaviour.
An admirable and important book, the implications
are profound
~ Sir George Trevelyan
Part One of the book is an excellent introduction to the Alexander Technique. The basic principles are explained clearly with the help of pictures, line drawings and observational exercises.
Part Two of The Art of Changing Glen Park looks at how the Alexander principles can be applied to our psychological habits, our patterns of thoughts and feelings. It then goes on to look at the body as an energy system, working with the Hindu philosophy of the Chakras which explores the relationship between mind and body in some depth. Combining this wisdom with the Alexander principles can help us gain new insights into our psychological make-up with the potential to identify and transform unwanted patterns.
Price: £12.50
If you are an Alexander Teacher and would like to buy 6+ copies for your pupils
please contact Glen Park for a discount.
The Art of Changing CD … Four guided visualizations by Glen Park

Ashgrove Publishing ISBN 1-85398-130-3 CD Published 2005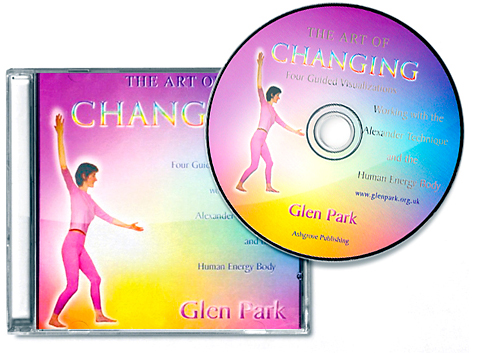 This CD complements Glen Park's book of the same name and contains audio tracks designed to be listened to while lying in semi-supine position. It has a four page insert illustrating the semi-supine position.
The CD has a short introduction followed by four twenty minute guided visualisations.
•

Introduction

•

Refining Self Awareness (a body scan)

•

Giving Alexander Directions

•

Working with Energy (visualising energy flows to bring about the Alexander directions).

•

Energising the Chakras (working with energy flows and the chakras).
The CD is professionally recorded and narrated by Glen Park.
Price: £10.00
Buy The Art of Changing CD
If you are an Alexander Teacher and would like to buy 6+ copies for your pupils please contact Glen Park for a discount.
An Interview with Peggy Williams (1916 – 2003) compiled by Glen Park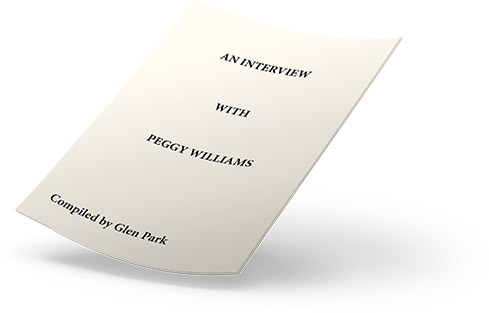 Peggy Williams began her training with FM Alexander in September 1946. She taught the Alexander Technique for over fifty years and the excellence of her work was recognised throughout the world.
This interview is compiled from discussions which took place during a series of lessons Glen Park had with Peggy during her training in November 1981, in which she tape-recorded their conversation. Peggy talks about her training and her early challenges as an Alexander teacher.
There are only a few dozen left of these interviews which can now be bought through this website. The pamphlets are over thirty years old (almost antiques!) so there may be a little rust around the staples.
'An Interview with Peggy Williams' by Glen Park, is very helpful reading for all teacher-trainees ~ John S Hunter,
Chairman 1990
Society of Teachers of the Alexander Technique
Price: £2.50
Buy An Interview with Peggy Williams
If you are an Alexander Teacher and would like to buy 6+ copies for your pupils
please contact Glen Park for a discount.
---
Buy Now
Thank you for your purchase!
Having trouble using this form? Please let us know.
---
Touching the Soul by Glen Park

(Coming soon)

Life has evolved through touch. Embryologically, it is the first sense to come into being. Our sensitivity to touch is profound. It can stimulate our earliest, largely unconscious memories and our primitive responses. Touch reaches deep into our psyches. When the touch is sufficiently sensitive and aware it can induce deep relaxation, healing, heightened awareness and a powerful connection to our experience of soul or spirit.
In this book Glen explains how the chakras can be understood as a developmental map of the psyche, covering stages of development including infancy, childhood, adulthood and maturity. She looks in depth at these developmental stages and how they are paralleled in the findings of western developmental psychology and neuroscience. Using this understanding of the multi-layered psyche as expressed through the chakras, she offers practical exercises which can help to bring awareness to each of our individual 'small minds' so that they can be integrated and in harmony with each other.
She then explains her system of Chakra Therapy which combines the practical exercises used in the book with the deep healing hands-on work offered by practitioners of the Alexander Technique who have also completed an additional training in Chakra Therapy. Bringing healing touch together with increased self-awareness of the rich multi-faceted nature of who we are creates a potent combination which can facilitate deep change. By creating a synthesis between Eastern traditions and Western research we gain a richer understanding of ourselves both mentally and physically and by working with conscious healing touch there is the potential for deep soul growth and transformation.
Touching The Soul is not yet available. If you would like to be notified of its publication please click the button below to email Glen Park: